History
Count Zero is part of a long musical journey for Peter Moore and Will Ragano. They have been in bands together for over thirty years.
Psycho Tec
While studying at the Berklee College of Music in Boston, a group of students found that they had similar eclectic tastes in music (including love for bands/composers like David Bowie, Talking Heads, The Residents, Captain Beefheart, King Crimson, Morton Subotnick, Gang of Four, John Coltrane and many others). They also had a penchant for 70s Funk and Punk music, so five of them got together to combine these influences in a band they called Psycho Tec. This was the first group with Count Zero's Peter Moore and Will Ragano, who have steadily worked together for over thirty years. Peter played Moog keyboard and Will played guitar, they were joined by Krishna Venkatesh on keys, Jeff Biegert on electronic drums and Kerwin Cain on lead vocals. Their chaotic, funk sound combined elements of the Sex Pistols (they did a cover of "Bodies") and George Clinton (Funkadelic, Parlament, etc.). They performed several shows at Berklee and at small clubs, but never had an official release. Two live recordings are all that exist.
THINK TREE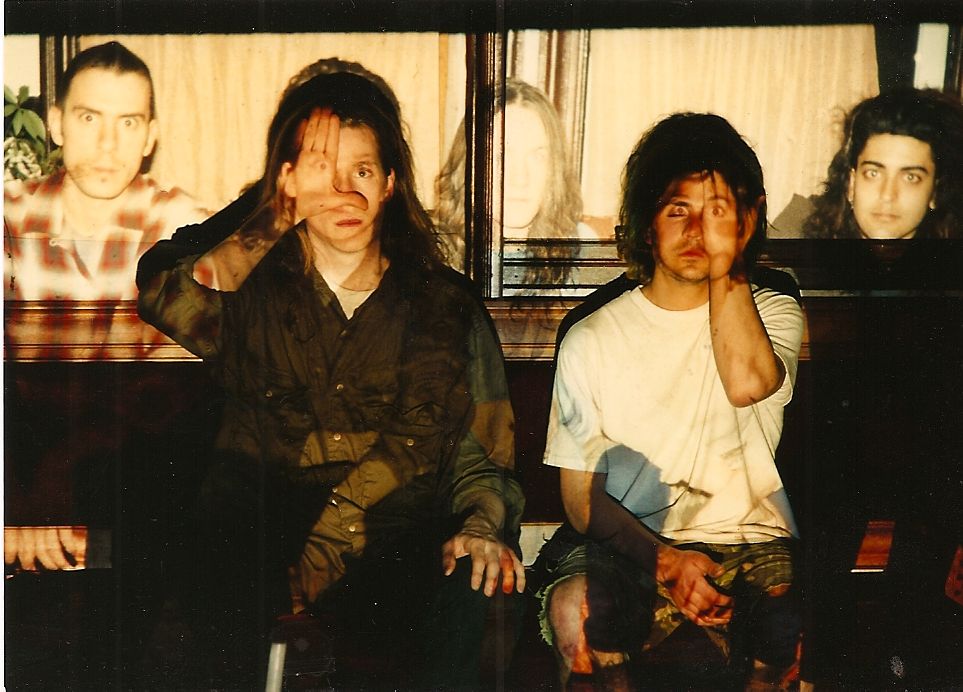 The strongest roots of Count Zero's sound lie in Think Tree. After Psycho Tec broke up, Will, Jeff and Krishna were joined by second keyboardist/sample player Paul Lanctot and Peter moved to lead vocal (and sometimes bass, guitar or saxaphone) to form Think Tree — active from 1987 to 1993. They released their first 12″ single "Hire a Bird" in 1989, the EP "Eight/Thirteen" was released in 1990, and the full-length "Like the Idea" was released by Caroline Records in 1991. "Hire a Bird" was one of Boston alternative radio station WFNX's top 500 songs of all time, and got college/commercial airplay nationwide. It also became a hit on VPRO radio in Holland, which lead to two successful European tours playing large clubs and theaters.
They played at CMJ, and opened for Nine Inch Nails (Trent Reznor was a fan of the band, and some say he was influenced by Think Tree's use of layered samples). In fact, Think Tree was a pioneer of creative approaches to sampling and developed a system, still used in Count Zero, where long rhythmic samples are divided up onto multiple keys so that the keyboardist can play them in real time. This allows the player to adjust to any speed changes and for them to actually play instead of just standing there and hitting one key to play the whole sample — this was an aspect to electronic music that Think Tree wanted to change, to make electronic music exciting to watch, with the manic energy of punk. They sold out large venues in the northeast and won many newspaper and reader's poll awards. dill and
Much to the delight of longtime fans, Rare & Unreleased, Live Vol. 1 and Live Vol. 2 compilations were recently released recently on Bandcamp.
BOngo fury
After Think Tree disbanded, Peter, Will and Jeff went on to create Bongo Fury. The name was based on a record by Frank Zappa and Captain Beefheart and it shared their sense of adventure and experimentation. For each song Peter took on a different character and the music genre shifted: some were country, some were jazzy, some were noisy, etc.). Several shows were performed at clubs such as Cambridge's legendary Middle East Club, and one record was released. After this the three of them formed Count Zero (Jeff plays drums on the first record "Affluenza").